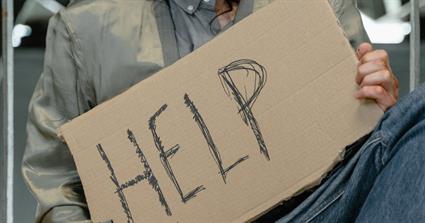 Take a deep look at your life. You have everything. It may not be perfect, but you have a home, friends, spouse, car, and probably a job. You can eat on a predictable schedule, and life overall is good. Like everyone, you have your daily struggles, which are part of your unique journey.
You walk down the street and see a homeless person. They could be sitting on a bench, on the concrete, or just walking by. You ask yourself if you should stop and talk to them, offer assistance, help them get help, or do something entirely different. Why should you care for someone that isn't part of your inner circle? It's a valid and significant question to ask. Asking such questions doesn't make you wrong a bad but someone seeking knowledge.
Most of us, myself included, just walk on past and try to ignore the problem. We say things in our head like "not my problem," "not in my backyard," "they did it to themselves," etc. Often that isn't the case. Most people experiencing homelessness don't ask for it. A set of circumstances happened to them that put them where they are today. They could've been married and gotten divorced or lost their job. They could have been in a domestic violence situation that forced them to continue being abused or live on the street.
Most homeless are good people and have larger hearts than many of us. They see the good in everything around them. Their eyes are often more open than many of us. I know I enjoy my conversations with them when I have the opportunity to talk with them.
Many homeless with the proper support structure have it to become pillars of our community and turn our good communities into great communities.
They Need Our Help
There are plenty of ways that we can help.
We can give our time by talking with them. Listening is a great way to learn what someone truly needs.
We can support through financial donations.
We can help by sharing resources and information with others.
Help them get to the places that can provide the help they need.
Everyone Can Help
Believe it or not, there isn't a person that can't help those in need. It's a fantastic thought that many of us miss. We lock ourselves into saying we don't have time. We actually have a ton of time for the things we prioritize. Time can be as simple as sharing something on social media with your friends. You're already spending time there, and it takes only 10-15 seconds to do. Awareness and helping those in your community remove the stigma in your community is as important as everything else.
Being Human / Moral Obligation
Part of what makes us a great race of humans is our capacity to help each other. We all have it in us to do the right thing in helping those that need our help.
Warm Fuzzies
This is what started me out on the Valpo Shelter Directory. I originally wanted to help just the homeless in Porter County, Indiana, find a shelter. The more I dug into the problem, I kept seeing people say "Not in my backyard" and laughed as I knew better. This is why we are now doing it for the entire state. I feel great in doing it and know you can, too, by helping in a way you are capable of supporting.
Conclusion
Only together can we help curb homelessness. We will never solve it, and that is equally sad. What we can do is help those that want help. There are more out there that want help than those that don't. You can be part of the solution by opening your heart, observing what's around you, and helping.