Formerly homeless, this marketing yeti revamped a resource website to help those seeking shelter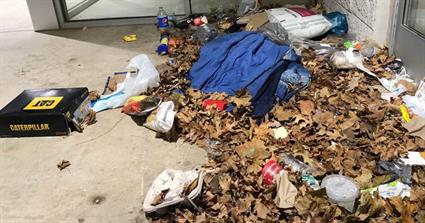 On Thanksgiving Day, a man describing himself as homeless walked into the Town & Country Market in Valparaiso, telling employees he had nowhere to find that shelter that night.
"I felt so bad for him," Holly Marx, a cashier, told me afterward.
She also told her husband, John Marx, a marketing software professional who has been technically "homeless" in his life, though he didn't realize it at the time. His back story likely helped guide him to his constructive reaction to his wife's news on that holiday.
Instead of saying simply, "Oh, too bad about that homeless guy," as most of us would have done, Marx looked into local resources for people in homeless situations. Every community has cracks in its social service system for the homeless and temporarily displaced population of residents. Porter County is no different.
The next day, Marx's life became transformed by an issue that most of us walk past without stopping to explore.
"You could rightly say it was by the grace of God, a higher power or just plain dumb luck," said Marx, a U.S. Army veteran who served from 1990 to 1995.
His new mission launched when one of his neighbors texted his wife to ask if she was able to access the Valpo Shelter website, https://valposhelter.org, an online resource site for housing opportunities in the city. That neighbor wanted to help someone in need.
Holly also couldn't pull up the site. Neither could her husband. "Page Not Found" it stated. Again, Marx could have not cared and simply shrugged. He instead starting digging to find out more information. He discovered the site was launched almost a decade ago by Pastor Rich Schmidt of Living Hope Church.
In less than two hours, Marx found out the site had expired and a revamped site was a possibility. He didn't complain to anyone about it. He didn't create a committee of concerned citizens to address it. And he didn't post something on social media. Marx acted on it, purchasing the domain name and creating a website with a logo design and themed graphics. He also began listing the same information as the original site, after verifying its accuracy, then setting up a Facebook page.
He did all this by 11 that night.
The next day his mind raced with ideas. He didn't want the new site to wind up like the old site — ignored and tucked away in the corner of the internet. He needed to come up with something different, something broader, something that could help those in need immediately.
"This is very overwhelming, something that is pushing me outside of my comfort zone," Marx told me. "I am typically one to sit back, be quiet and let politicians do what we elected them to do. I am learning they cannot fix the problem. They can help be a voice for the bigger projects, but a directory and resource like this doesn't truly exist."
Marx has since expanded the site's scope to include six counties and counting, with a consistent message of resource help. He's printed fliers to distribute, sought donations from people and corporate sponsorships, created stickers to give supporters and met with church officials, food banks and other organizations for partnerships.
"There are national directories, but those are from when it appears the world was trying to solve homelessness 10-plus years ago," he said. "Everything is outdated with many of the resources out there that no longer exist. I think this is why it is truly hard for men, women and families to move forward as everything is so buried."
Some homeless situations are hidden behind shame, stigma or physical barriers to conceal the reality of this problem. Other situations meet us halfway. For the past two weeks, I couldn't help but notice the makeshift encampment belonging to a homeless man living next to my gym, Planet Fitness in Valparaiso.
After I heard from Marx about his project, I returned to the man's encampment for a closer view of his living conditions. It's set up in front of an empty storefront in a small strip mall. A pillow still inside its plastic wrapping is buried by debris, empty food and drink containers, a blanket, and a swirling pile of leaves. A few loose coins are the only other remnants of generosity by passersby. (View more photos on my Facebook page, www.facebook.com/JerDavich/.
"Porter County believes it doesn't have a homelessness problem, but I see those in need walking down our streets daily. Yes, I did ignore them, too, and I was wrong," said Marx, owner of Business Yeti, a software development firm (www.businessyeti.com).
The father of five describes himself as a bullet-point kind of guy whose life is based on telling the truth, not only about our social ills but about himself. This includes his stints with homelessness in his younger years.
"During each of my homelessness moments, I had a job, I wasn't on drugs and during those times I didn't drink. Yet I was there," Marx writes on the Valpo Shelter site. "I was a statistic who, with friends, was able to get through it. One would think that having gone through that, I wouldn't have ignored it as much as I have."
The rest of us should better realize this chronic problem in most every town and city. And how we can help curb it. We may not have the skills to revamp a homeless website, but we can help spread it to those who need it. Or make a meager donation to keep it from getting neglected again. Anyone interested can contact Marx at john@BusinessYETI.com or at 219-229-1633.
"The kicker was I never considered myself homeless. Only until starting this site did I realize I was," Marx said.
jdavich@post-trib.com
Source: https://www.chicagotribune.com/suburbs/post-tribune/opinion/ct-ptb-davich-homeless-shelter-resources-st-1221-20211220-5sm6x5kgkfd5hfydgv7oy4clte-story.html